Rurbad in Düren
published in sb magazine 6/2022
Located near the river Rur, the Holzbendenpark is known as "Düren's hidden paradise" and serves as an oasis of recreation for the town's residents and visitors. As part of the town centre master plan, the municipality of Düren is redesigning this green space, inclusive of a new entrance to the park. KRIEGER Architekten | Ingenieure has designed the new Rurbad as a striking gateway at the newly created southern park entrance, offering something for everyone: maximum flexibility for schools and clubs, a wide range of swimming and course offerings for young and old, a sauna and wellness area as a refuge for those seeking peace and quiet, and a restaurant serving all indoor and outdoor areas.
Smooth planning process
The planning team consisting of KRIEGER Architekten | Ingenieure as the general planner and Pellikaan Bauunternehmen as the general contractor were happy to accept the challenge of creating contemporary architecture at this special location on the basis of the concept devised by PROVA and the Dürener Service Betrieb utility company.
Good to know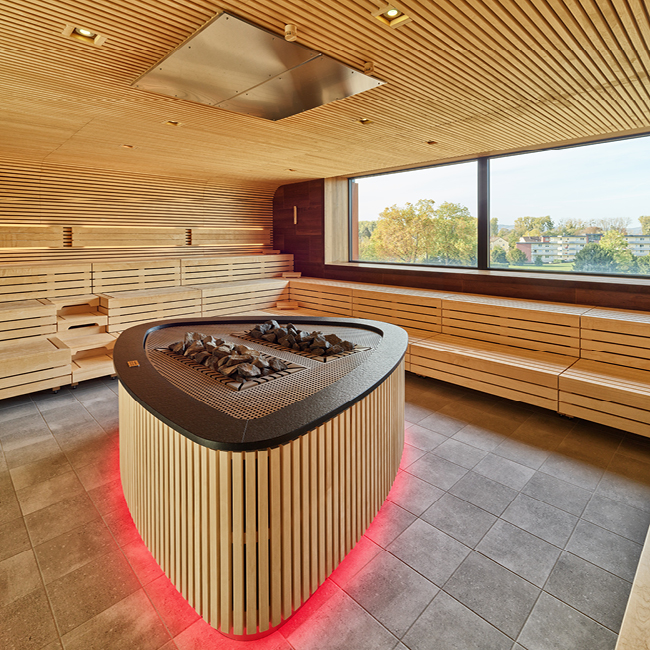 Location
Düren, Germany
Client / operator
Dürener Service Betriebe
General contractor
Pellikaan Bauunternehmen
www.pellikaan.de
General planners and architects
KRIEGER Architekten | Ingenieure
DE – 42551 Velbert
www.architekt-krieger.de
Wellness facility
devine wellness-anlagenbau
AT – 6241 Radfeld
www.devine.at
Author
Ina Neuhaus
KRIEGER Architekten | Ingenieure
Photos
Christopher Arnoldi, Altrich
Official opening
July 2022
Construction costs
(without outside facilities)
EUR 20 million