Alice Milliat swimming pool in BOURGOIN JALLIEU 
published in sb magazine 3/2023
The Alice Milliat swimming pool serves the community and replaces a local Tournesol swimming pool. Located in the heart of the city, it is intended to improve accessibility for larger sections of the conglomeration's population. The goal is to make the most of this new facility to give it truly intermunicipal status by expanding its public and activity capacity. The new facility designed by Atelier PO&PO architects aims to be a flagship in terms of energy transition and to obtain the BEPOS (positive-energy building) label – a first in France and apparently in Europe.
Good to know
Location
Bourgoin-Jallieu, France
Client / operator
Communauté d'agglomération 
Porte de l'Isère
Société d'Aménagement Rhône Alpes
Architects
Atelier PO&PO
B_Cube
General design office
Quadriplus group
Photos
B_Cube
Elena Usacheva
Official opening
October 2022
First positive-energy swimming pool in France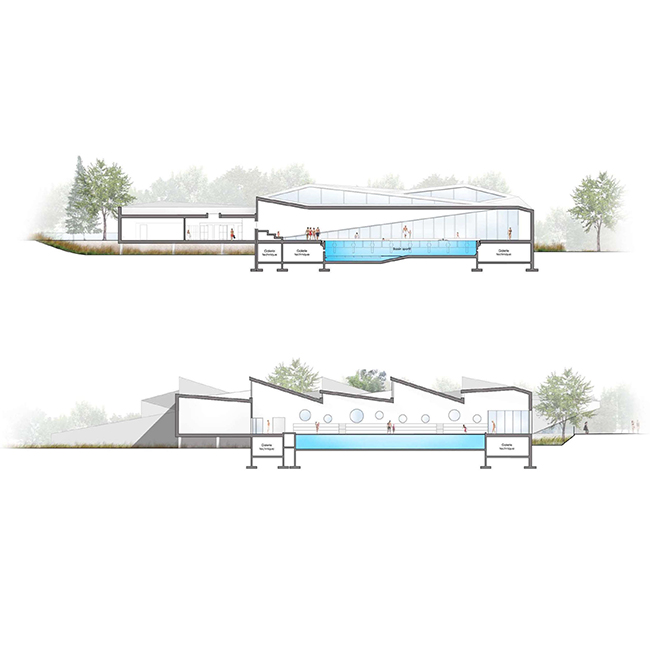 "True" BEPOS certification was unattainable for this project, even if 80% of the heat used comes from renewable energy sources and even if 100% of the roof is covered with photovoltaic panels. Yet, the challenge was to demonstrate the pool's energy performance by means of dynamic thermal simulations and a calculation of water and "physical" energy consumption. 
The ideal energy performance goal is around 2,200 kWhep/m²/year. The pool's total heat consumption is 644 MWhef/year, i.e. 1,227 kWhef/(m²pool.year).