We're excited to invite you to a thought-provoking and inspiring event that delves into the future of outdoor spaces in schools.🌱🎒

IAKS Nordic Presents: "Thinking Outside the Classroom: "Transforming Schoolyards into Dynamic Environments for Learning, Growing, and Playing"

Date: Thursday, September 28th Time: 10:00 - 11:15 (GMT+2)
Platform: Livestream Webinar

In a swiftly changing world, marked by reduced outdoor play and physical activity among children, a shift in the design of our schoolyards has become essential.
Join us in exploring how schoolyards can be transformed into vibrant, interactive environments for learning, growing, and playing.

Seize the opportunity!
Register for the free livestream webinar and mark your calendar for September 28th and invite your colleagues, friends, and anyone passionate about the future of our outdoor spaces.
Stay tuned for more updates on our Linkedin and facebook page.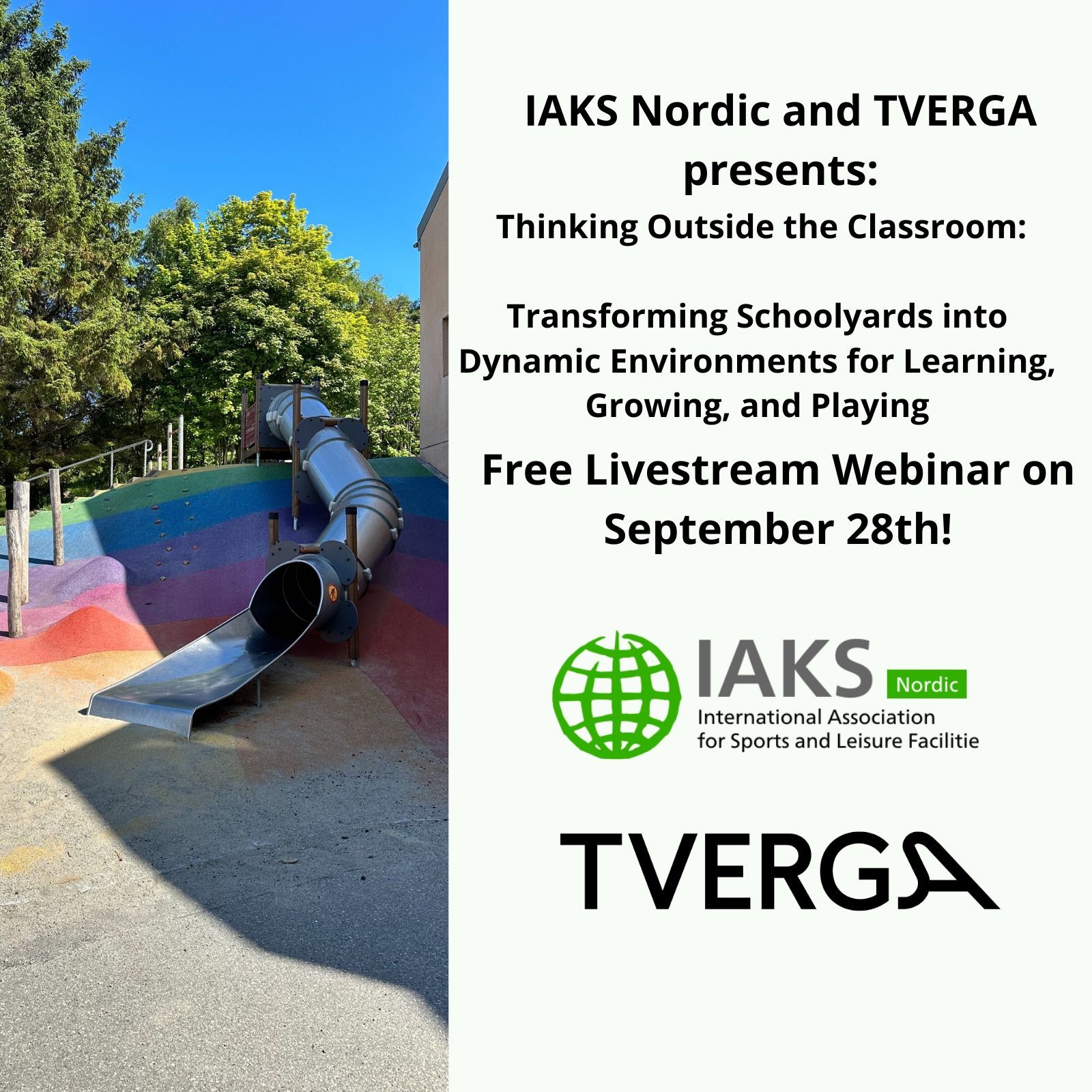 Watch the live stream here
What to Expect at the webinar:
🌿Expert Insights: Our lineup of expert speakers includes distinguished researchers
and practitioners who have successfully implemented transformative schoolyard
projects. Learn about the latest trends, case studies, and best practices.

🏫Beyond the Classroom: Discover how schoolyards are evolving beyond traditional
playgrounds. Explore the potential of outdoor spaces in enhancing creativity,
engagement, and educational outcomes.

🌎Community Engagement: Find out how involving students, parents, educators,
and communities in the design process can lead to more enriching and inclusive
schoolyards.
Programme
Welcome Aboard; Introduction and Overview
IAKS Nordic President Andrè Flatner

Research on the importance of Riskful play
Riskful play: Fostering Children's Right to Play and Nurturing Exploration.
Professor Ellen Beate Hansen Sandseter 
Dynamic school yards: Why diversity is important for childrens play, learning and motor development
Children's Physical Activity and Preferred Activities during Outdoor Recess in Estonian schools.
Associate professor Lise Kjønniksen and landscape architect Ingunn Fjørtoft

Enriching Schoolyard Spaces through diversity and community engagement
Boardmember IAKS Nordic and Managing director Tverga, Lisa Mari Watson

Two Inspiring Case Examples of Schoolyard Projects
Stavanger municipality, Norway Kine Marie Krogh Olesen
Drøn schoolyard, Denmark Ola Mattsson, LOA fonden
Wrapping Up: Recap and Closing Thoughts
IAKS Nordic president, Andrè Flatner